Temps de lecture : <1 minutes (pour faire le plein de sport et tourisme 🤙)
With abundant ski resorts in France, it is not easy to get there and choose THE most suitable resort for you. Do you want to go with the kids, and stick to a budget, but the bigger resorts don't interest you? No worries, we have selected the best resorts for you and by region, and the places to stay !
LES VOSGES
La Bresse-Hohneck, la station des Vosges par excellence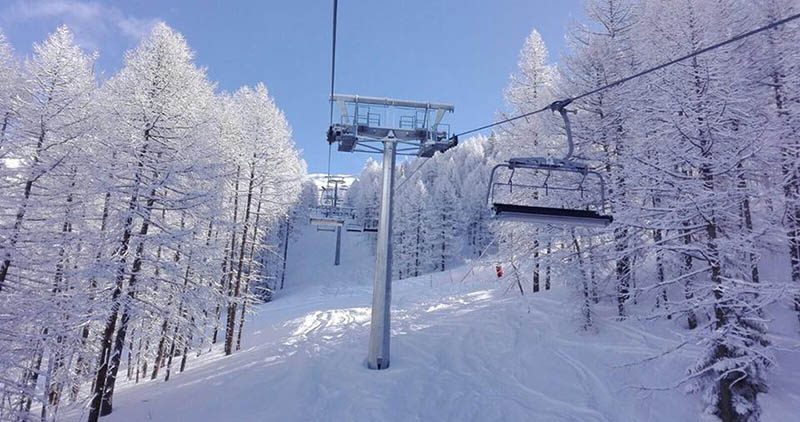 Located in the Regional Natural Park Ballons des Vosges, this little ski resort has all that you need !
Close to the big cities (Colmar at 1hr, Nancy at 1.5hr, Metz at 2hr away), this is the perfect station to spend a weekend, especially in harmony with nature.
You will have the opportunity to practise all types of skiing(alpine skiing, cross-country skiing) but also snowshoe hiking, skijoring (To find out more on skijoring) (En savoir plus sur le ski-joering), husky dog sledding…
For those scared of the cold, you could hike around the numerous lakes in the region: Lac de Blanchemer, Lac de Lispach, Lac des Corbeaux … but also discover the many special rocks of the area: la Boule du diable, le moutier des fées … Finally, a tour of the wood and heritage crafts centre to see the expertise of artisans in the region, before indulging your teeth at the chocolate shop, Chocolaterie du Vignoble or at sweets shop, the Confiserie Géromoise. You will not be disappointed!
Ski station of Lac Blanc fosters a "family" spirit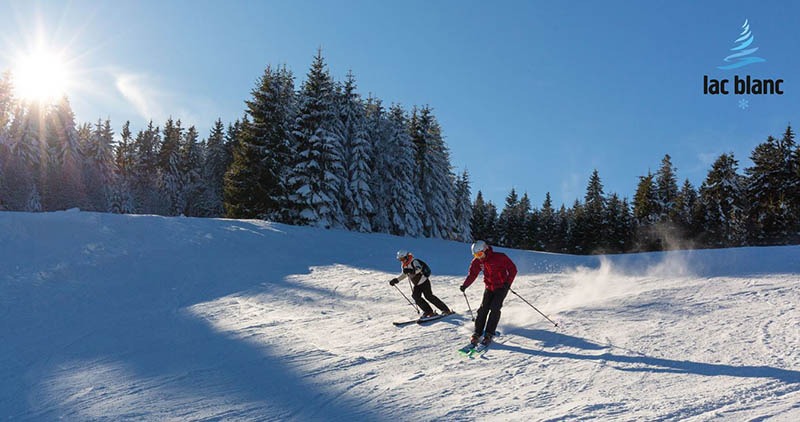 At the heart of the Vosges, less than an hour from Colmar, this family friendly ski resort of Lac Blanc , is friendly and hospitable to skiers and enthusiasts of various mountain activities.
Great place for sports enthusiasts : Hiking and escapes on the ridge of Vosges while snowshoeing, discovering wide open spaces or sports training on a vast area for cross-country skiing, alpine skiing and snowboarding …
You can also taste some culinary specialities and local produce in nearby communes such as the restaurant Les Terrasses du Lac Blanc which proposes traditional Alsatian specialties (we think immediately of Flammekueche) as well as cheese-based alpine dishes, for example, the Munster gratin. Also the opportunity to eat a real garnished choucroute (sauerkraut) or a traditional Alsatian tart at the Restaurant des Crêtes in a warm and modern setting.
THE FRENCH ALPS
Pralognan-la-Vanoise, authenticity at high altitude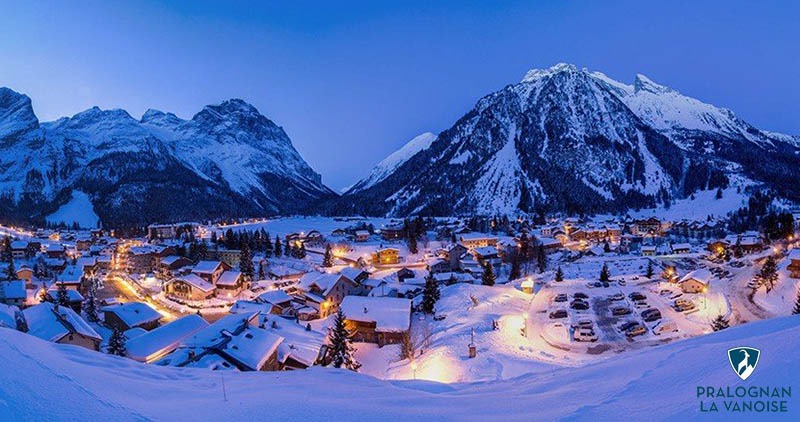 Years have gone by and the Pralognan-La-Vanoise has kept its authentic charm like other ski resorts such as Chamonix or Zermatt. Located deep in the Tarentaise valley, at the feet of the highest Savoyard summit, between the stations of la Plagne and Courchevel, remains an emblematic destination of the French Alps.
With its 150 years of history, it is considered as the cradle of mountaineering, the alpine lifestyle is deeply rooted in the heart of the Pralognanais people who are proud of their valley. The glaciers surrounding it have witnessed the numerous courageous souls giving all that they have to cross over to Italy, maybe a slice of Beaufort cheese from the Plan will entice you to follow in their footsteps ! 🙂
Despite its modern infrastructure, this little village of 700 inhabitants has known how to keep its simplicity and a friendly atmosphere thanks to its architectural heritage : traditional Alpine cottages, traditional roofs … This place is ideal for families, indeed, parents can enjoy exceptional snow and infrastructure are available for children, all in an idyllic setting.
The station of Notre Dame-de-Bellecombe, the heart of Val d'Arly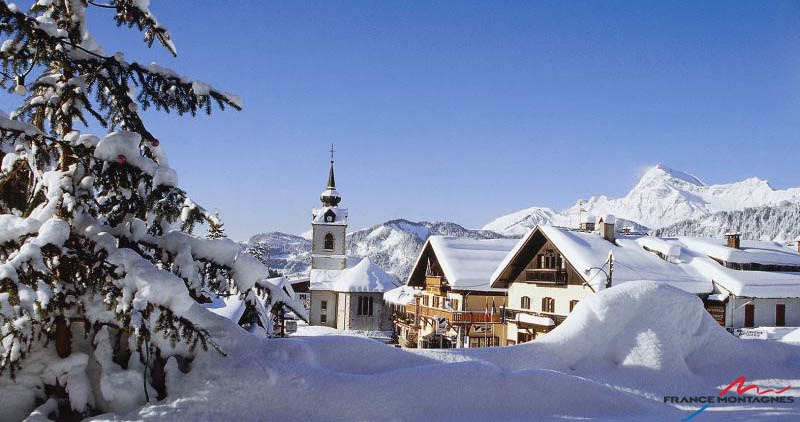 All is in the name, the charm and the beauty of this village-ski resort which leaves everyone with a good impression. Notre Dame-de-Bellecombe, one of the four family friendly ski resorts of the ski area of Val d'Arly that celebrates its 80th anniversary this year, will leave you feeling inspired by its extraordinary natural sites and heritage. Its architecture is an evident feature and the village church constructed between 1876 and 1886 plays a main role.
There are numerous activities, enjoy the ski slopes in the morning, you could even try the new "Yooner" rides (cross between skibob and sled), and take your kids to the Museum of Fairytales Musée des Contes de Fées in the afternoon. Don't forget to go to one of the many village festivals if you still have the energy, you could enjoy local produce, especially cheese and charcuteries.
Les Karellis, "a kingdom for children where adults reign supreme"
Les Karellis, it's THE ultimate family ski resort. Located 2hrs from Lyon, in Savoie, this ski resort has received the "Family Plus Mountain" label, which means that it has been entirely developed for the family in mind. Motto: "We are committed to guarantee the highest quality family ski holidays".
The services respond perfectly to the needs of families, the only issue with the resort is to find entertainment and activities tailored to age and to satisfy the interests of each person. While the toddlers and teenagers are looked after by professionals, parents can go about their business. Enjoy the huge 530 hectares of ski area or go and relax in a SPA. When it's time to get together again, nothing better than to taste some regional dishes in one of the many restaurants, then go to the movies before going home in style.
Do you have a home to rent in one of the villages around the family ski resort of the Karellis (Montricher, Albanne, …) ?
Share your listing with the sports community on www.sportihome.com !
LE JURA
Métabief, an accessible ski resort right at the heart of the French Jura mountain range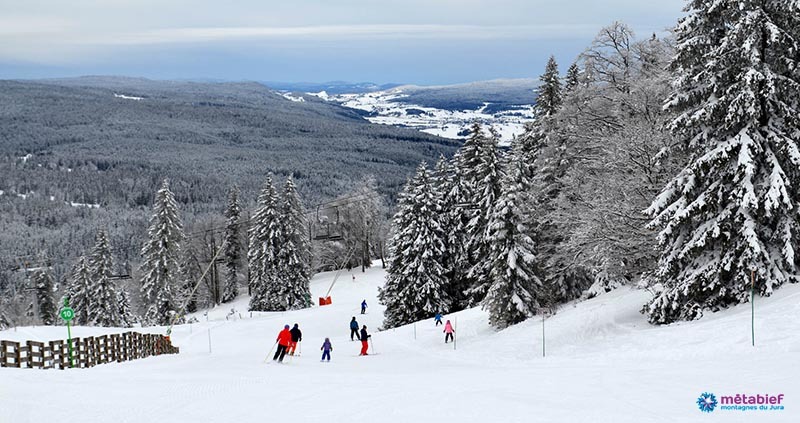 "Métabief, it's a mountain dedicated to sports!" : numerous activities are proposed in this ski resort of Doubs. On the slopes of Mont d'Or, you can practise a range of sports activities such as alpine skiing or freestyle skiiing, alpine slide or bobsleigh, the fat bike fat bike or mountain biking … But there are also family excursions to visit to cheese makers. Go to visit the Grange aux Fromages to learn how your favourite cheeses, Morbier, Raclette, and of course the Mont d'Or are produced. Vous trouverez aussi des chemins ludiques pour des moments à partager entre petits et grands. An opportunity to also do an underground visit of the cave of Vallorbe. Vous pourriez assister à un spectacle sons et lumières dans une cathédrale naturelle remplie de stalagmites… Spectacle garanti !
The family ski resort of Monts Jura, 4 villages for all tastes !
Appréciée par les amateurs de glisse, Monts Jura offers 47 ski slopes but in particular, this family ski resort is the expert in cross-country skiing with not less than 160km available for practice. You aren't really good at skiing? No worries, Monts Jura offers also ice skating, snowshoe hiking, dog sledding… but also more family friendly activities such as the aquatic park of Vitam, visit to the cheese producer of the Abbaye, with the production of the blue cheese of Gex and comté cheese. Or there's also the Museum of Fine and Precious Stones where you will discover how jewels are made based on 60 years of knowledge and experience! What an amazing trip for the whole family!
LE MASSIF CENTRAL
Besse and Super Besse : right at the heart of Auvergne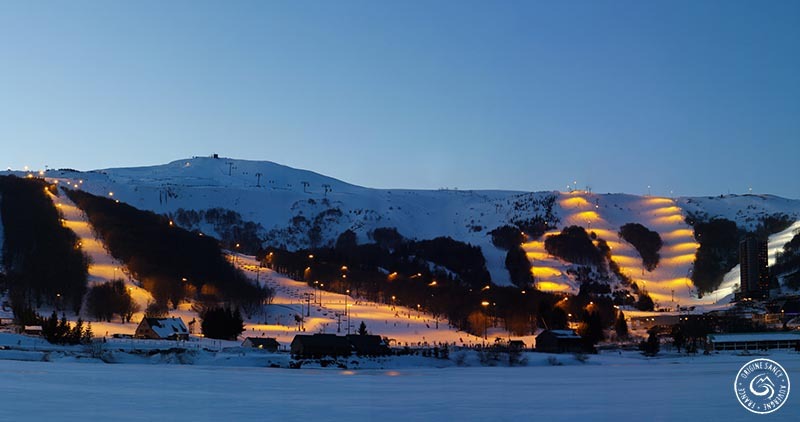 If you want to get together as a family and to be entertained, if you are in love with the Auvergne region, the family ski resort of Super Besse will be the number one choice !
Located on the Massif du Sancy, the resort brings together numerous leisure activities of the outdoors. 43 kilometres of ski slopes, together with the ski resort of Mont-Dore station du Mont-Dore, it becomes a ski resort of more than 84km ! These 2 resorts connected by 3 ski lifts form the ski resort of Grand Sancy !
!! Nice tip: when the connection between the two resorts are open, entry to the second station is free !!
With a strong cultural heritage, Besse, village just below Super Besse, 7 kilometres away, will delight you by its small medieval city that is extremely well preserved. Real jewel, le centre-bourg ne compte pas moins de 8 bâtiments classés parmi les Monuments historiques ! The Church of Saint-André, the Castle of Bailli, the ancient city walls, fountains… will only bring an authentic touch to allow you to go back right into the Middle Ages.
Ski resorts on the Aubrac (Laguiole and Brameloup)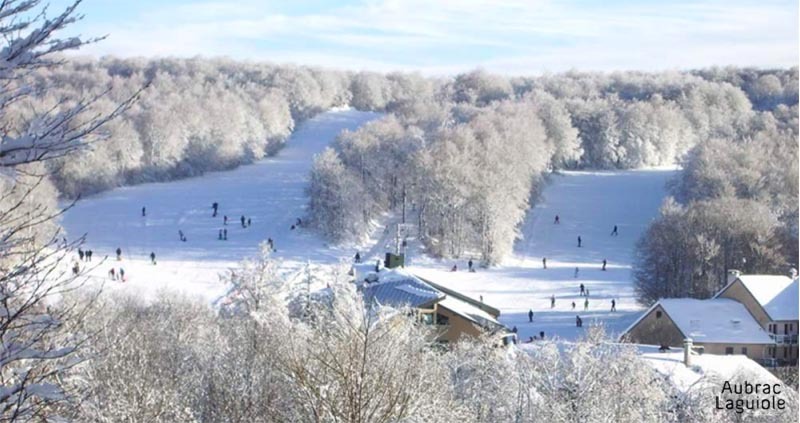 Located in the heart of the Aubrac, the family ski resorts of Laguiole and Brameloup (located 25 minutes from each other) offer an ideal setting for outdoor activities: downhill skiing, cross-country skiing but also sledding. Are you a fan of hiking and snowshoeing? This area with breathtaking landscapes is for you!
You surely have heard of the famous Laguiole knives! This is where you will discover how the blades are forged. As well as how the materials of the sleeves are chosen and structured. And finally, the story behind the symbol of the bee. You can visit many churches and chapels. And you will be able to admire the bull of Laguiole (a legend says that touching it brings good luck!). We also advise you to discover the small villages nearby You will be able to admire the cow of Aubrac, in the middle of the magnificent plains which surround this place.
Do you have homes in one of the villages around these family resorts? Share it with the sports community on www.sportihome.com!
LES PYRENEES
Val Louron: a family friendly resort
Dominating the magnificent Pyrenean valleys of Aure and Louron, this ski area offers an exceptional 360 ° panoramic view. At the top of the slopes, you can see the whole valley of Louron and the famous Lac de Génos Loudenvielle. The resort of Val du Louron is an ideal place for families with a beginners area forbidden for experienced skiers. Five slopes, bordered by a forest of fir trees, are thus dedicated to newbies. The family resort offers very good infrastructure and various ski schools for ski/snow classes.
The Val du Louron is unique as it proposes short, safe and fast trips. There are no cars in the station and the ski lifts serve the station perfectly. Not to mention the very attractive prices of packages!
If the idea of ​​a break comes to mind, you can always opt for an hour of paragliding or take a tour of the Balnea thermal water relaxation centre. This place is also the perfect place to spend Christmas with the family with the arrival of Santa Claus and fireworks on the 25th December and a weekly torchlight descent.
Chioula: "nature" vibes 15 minutes from Ax-les-Thermes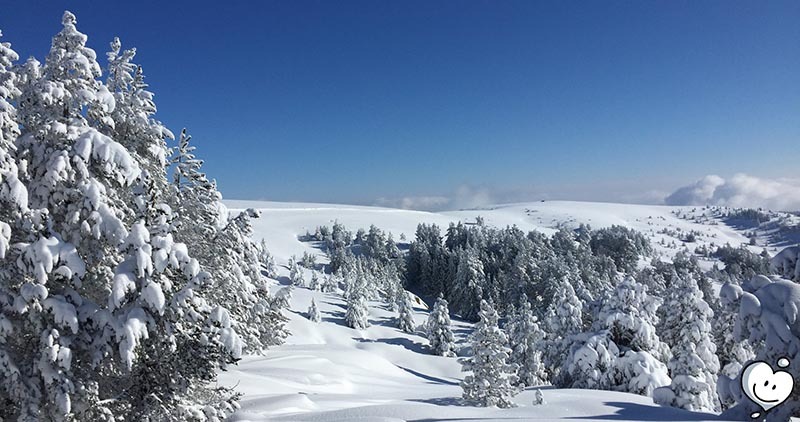 Located in the vicinity of Ax 3 Domaines, Le Chioula is a family resort offering a medium Nordic space, between 1240m and 1650m altitude.
There is a complete program of activities: hiking, cross-country skiing, snowshoeing, sledding, dedicated children's areas. There is something for everyone and for all ages! All in an idyllic setting, between forests, snowy mountains, and valleys. 50 kilometres of Nordic trails are available and maintained each day of the season. With regard to learning skiing; the Chioula ski school offers cross-country skiing lessons (classic and skating skiing) and snowshoeing. And all of this for all ages.
At the top, a panoramic view of the Pyrenees awaits you.
On site you will find all the necessary services at a family resort. Alpine restaurants, refuges, rental equipment services, shops etc. Do you want to spend a holiday in the mountains with a peace of mind? Succumb to the temptation of an unspoiled nature and snowy landscapes in Chioula.
It's the end of our series on French ski resorts! We hope you could find something for your next holiday =)