A desire to escape?
With the departure of tourists and the arrival of the first depressions you are going to be riding away! After our tour of kiteboarding spots and tourism in the Mediterranean, and our selection of the best destinations to combine kiteboarding & surfing on the Southern Atlantic coast, today, it is our beautiful West coast which is in the spotlight!
To accompany you on the most beautiful spots of our blue planet, Sportihome, as a collaborative & sports platform, has naturally decided to share the best tips with you. Community shared spots and places to stay with people similar to you, all can share their experiences and tips!
Whether you are more reef or beachbreak, shortboard or longboard, freestyle kiteboarding or just surfing, there is something for everyone and for all levels;)
No need to go to the other side of the world to change environment! A Surfing trip across 5 French departments for loads of action, good vibes, sharing and riding. Are you in the water yet?
FROM LA ROCHELLE TO BREST
CHARENTE-MARITIME
SURFING AND KITEBOARDING IN LA ROCHELLE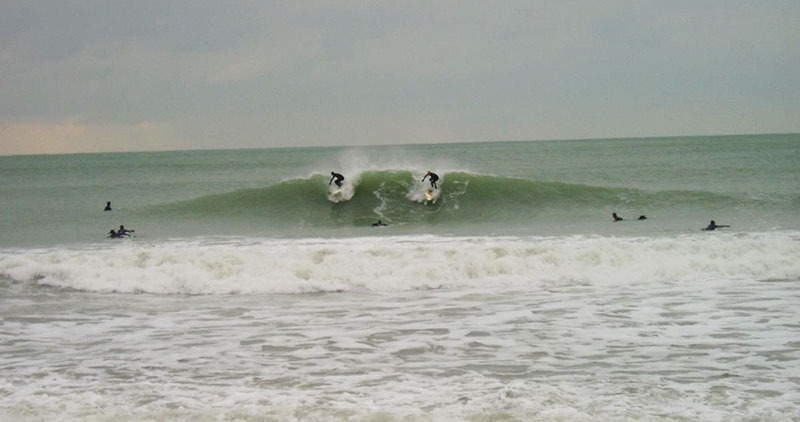 Where to go surfing ?
At les Portes en Ré shared by Cyril : « Le Lizay »
The Lizay beach is a beautiful wild beach typical of the Landes department. For surfers with a good level, you can do nice peaks left and right.
Where to go kiteboarding ?
At Rivedoux beach shared by Marie-Pierre : « Rivekite »
Between Île de Ré, the bridge and La Rochelle, Rivedoux is the ideal spot for kiteboarders. Depending on the conditions, you have the choice between the North Rivedoux beach and South Rivedoux beach (Chaveau sandbank). As the thermal wind gets in rather late on the island, the ideal is to go in the late afternoon and rising tide. Be careful, the launch areas are quite limited.
Where to sleep?
At Marie-Pierre's home, at Sainte-Marie-de-Ré : "Charming house close to the sea and bike trails" « Maison de charme proche mer et pistes cyclables « 
140€/night for 5 travellers (low season price)
Marie-Pierre welcomes you in a charming 70m2 traditional style house, completely renovated and newly furnished, a few steps from the beach. The accommodation has a pleasant sunny courtyard with direct access to store your bikes and quickly come back from the beach. Ideal for storing material after an epic session! And to end the day in style, enjoy the barbecue, deckchairs and relax in the garden.
VENDEE
SURFING AND KITEBOARDING AT LA-TRANCHE-SUR-MER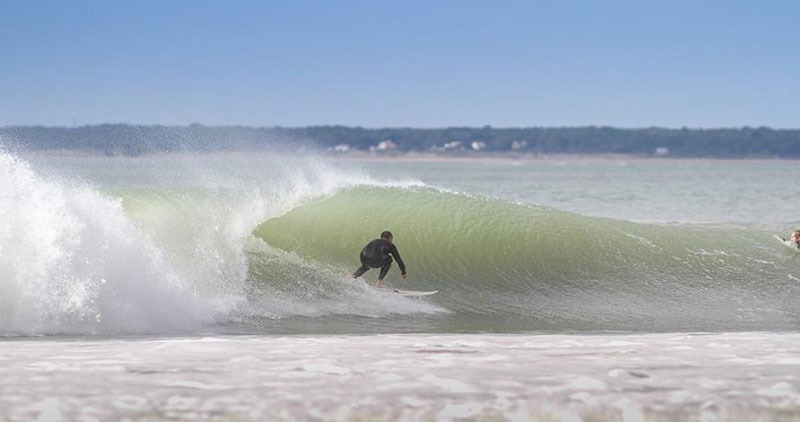 Where to go surfing ?
At La Tranche-sur-mer, shared by Yann : « La Terrière »
Discover this super surfing spot at rising tide! It's better to go there with an East / North-East wind and a West / North-West swell for optimal conditions. Parking is available right in front of the spot to avoid walking too much with your board;)
Where to go kiteboarding ?
At La Tranche-sur-mer, shared by Yann : « Le Phare"
Kiteboarding spot, but also for surfing, SUP and windsurfing when the wind is strong. It is ideal for northwesterly winds and is recommended for experienced kiteboarders. As it is rocky, get some water socks. It is the only beach where it is possible to practise kiteboarding at la Tranche sur Mer.
Where to sleep?
At Yann's home, at La Tranche-Sur-Mer : "Favourite » House Maison « Coup de Cœur »
50€/night for 4 people (low season price)
At the heart of La Tranche sur Mer, located in a private residence, this house on the ground floor will offer you a privileged setting for an awesome sports holiday! With the house near the water sports centre and the main beach, you can do everything on foot. The real happiness of an authentic place that has a private fenced garden and a patio facing south. A garage is also available, perfect to safely store your equipment!
LOIRE-ATLANTIQUE
KITEBOARDING AT SAINT-NAZAIRE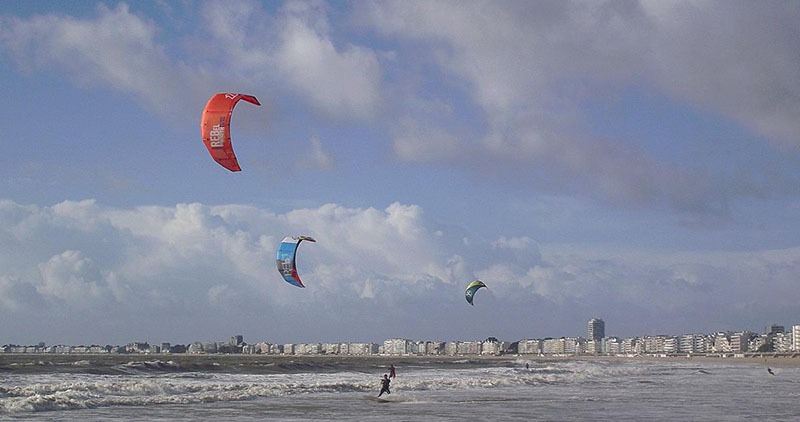 Where to go surfing ?
What do you mean ?! There are no surfing spots in the Loire-Atlantique department on Sportihome yet? It certainly has some nice surfing spots, right? If you have one or more hidden away, do not hesitate to share them with the Sportinaut community by clicking HERE
Where to go kiteboarding ?
At Pornichet, shared by Fabien : « Pornichet »
A kiteboarding, windsurfing and stand up paddle/surfing spot depending on the conditions, you will find your happiness for sure! 😉 There are a lot of waves and nice for freeriding, with a North, West and South wind direction. Right next door, there is something to eat with simple and beach style restaurants. There is also a sailing club if you want to do a catamaran or laser sailing session, go for it!
At Saint-Brevin-les-Pins, shared by Alexandra : « Le Pointeau »
The Pointeau kiteboarding spot is located in a large shallow lagoon near a large white sand beach. Depending on what you like, sail before high tide for kiteboarding in the waves and at low tide for flat water. The winds are South-West / West / North-West / North / North-East. To park, go to the parking of the water sports centre north of the beach.
Where to sleep?
At Alexandra's home at Saint-Brevin-l'Ocean "Beach House in the Calm Pine Trees" « Maison à la plage au calme des Pins »
340€/night for 10 travellers (low season price)
Alexandra welcomes you in a typical Brévinoise house with a completely renovated interior. For more conviviality, travellers will share the living room for breakfast between sports enthusiasts. This house, amidst the pine trees and near the beach, is perfect for practising land sailing, kiteboarding, horseriding on the beach and wakeboarding.
MORBILHAN
KITEBOARDING AT GÂVRES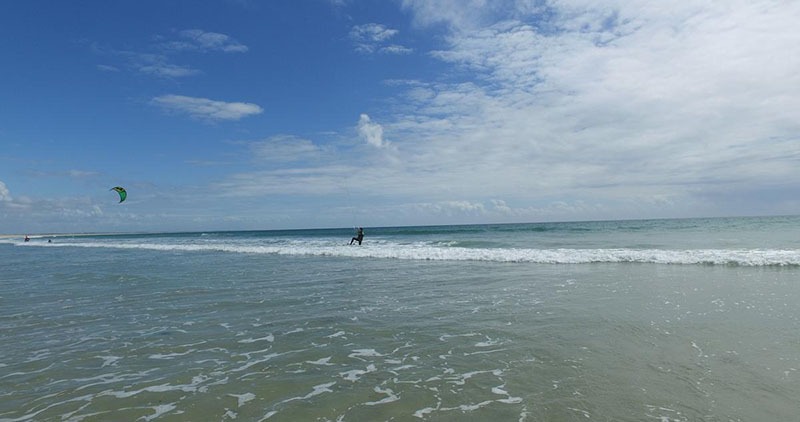 Where to go surfing ?
What do you mean ?! There are no surf spots listed around Gâvres on Sportihome yet, it certainly has some nice surf spots, doesn't it? If you have one or more that you know of, do not hesitate to share them with the Sportinaut community by clicking HERE
Where to go kiteboarding ?
At "Gâvres", shared by Muriel : "Little sea of Gavres" « Petite mer de Gâvres »
Near Gâvres, the water is flat which makes it super fun for learning or freestyle kiteboarding. The spot works with easterly, southerly and westerly winds. Be careful with the tides though, it quickly becomes impossible to land / launch one's kite at high tide. The beach is not very wide and there can be a shore break. The spot is located on a large sandy beach which you can get to by car via Plouhinec (parking on site). Little bonus: in the summer, you can get to Port Louis and Lorient by boat.
Where to sleep?
At Marie's home, at Gâvres : "Sea villa of Gavres Plouhinec" Villa mer de Gâvres Plouhinec
63€/night for 8 travellers (prix basse saison)
Marie welcomes you in her villa located between land and sea, near the sea of Gâvres famous for fishing on foot and for its kiteboarding spot. The villa, recently renovated and bright, will seduce you with its warm and friendly interior and outdoor patio with garden furniture and barbecue, all on 900 m2 of land! Close to the sandy beaches, you can also watch from the garden, kites moving along the sea of Gâvres, something to motivate you in the morning when you drink your coffee!
FINISTERE
SURFING AND KITEBOARDING IN PLOMEUR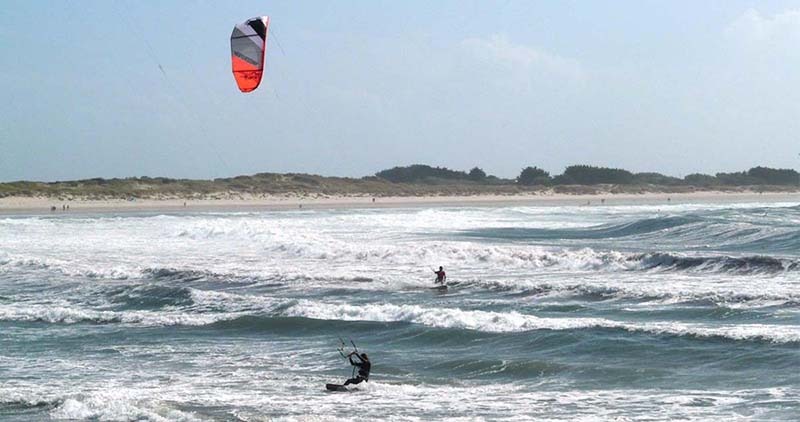 Where to go surfing ?
In Plomeur, renseigné par Emmanuelle : « La Torche »
In the heart of the Bigouden region, it is the one of the best known surfing spots in Brittany! The Torche is a magnificent and huge white sand beach, which hosts major sports competitions such as the French Cup and the French championships for Surfing. The waves are often strong, making this spot accessible all year long! For those who want to relax and swim, everything is provided, with showers and lifeguards during the summer periods.
Where to go kiteboarding ?
At Penmarch, shared by Emmanuelle : "Steir Beach" « Plage du Steir »
This spot is dedicated to freeride fans both in kiteboarding and windsurfing. Without any particular danger, the place is suitable for beginners as well as experienced kiteboarders. A beautiful southwest thermal wind rises during the summer to satisfy everyone. The rest of the time, the wind direction is East / Northeast, perfect for flat sessions! The Ster is a large sandy beach that is accessible by a parking at the foot of the spot.
Where to sleep?
At Raymond's home, in Treffiagat, "House at 300m from the port of Guilvinec and the beach" « Maison à 300m du port du Guilvinec et de la plage »
50€/night for 8 people (low season price)
Large house ideal for large groups of travellers, Raymond's house has a 250m2 enclosed garden with an outdoor table and barbecue and a small upstairs patio for eating outside. The famous La Torche surfing spot is about ten kilometres away. By the way, for those who wish to spend a day out of the water, Raymond has 8 bikes available !